Fashion guru loves NOLCHA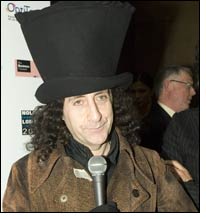 Nolcha Fashion Week, London kicked off with such a wonderful welcome from the London fashion crowd that we did not think it could get much better but it did…the crowds queued up to see the catwalk shows, industry supported the launch of PROFILE NYC and the UK release of Nolcha Metier Magazine, not to mention several highly regarded UK and Global Nolcha partnerships are now set at work.

The catwalk shows were held on Monday in the Crystal Ballroom at The Mayfair Hotel opening to a standing room only crowd for the first of six shows. Le Nac (Netherlands) showcased simple yet elegant feminine pieces with beautiful fitted cuts. This designer complimented the collection by implementing a selection of fabulous handmade hats by New York designer Ms Bo Dangles.

Following this DMG (Columbia) featured their exquisite, chic white coat collection which left an irresistible impact especially the attention to detail and gigantic buttons. Fine artist turned fashion designer Laurance Rassin's (USA) show was bursting with colour and energy leaving the crowd stunned. The abstract prints on amazing silk dresses were reminiscent of a modern contemporary Picasso piece.

The evening shows began with Georgie W Couture. Fabulous darling was the word…English tea party was the theme. Striking yet simple pieces were strutted down the catwalk of this British designer. Selphie Bong (Indonesia) showed striking evening looks with an edge. Using large beading and ornate accents her dresses were both glamourous yet wearable.

Closing the catwalk shows was Qipao by Jane (China) who took the traditional Qipao and made it updated, fun and classy using non traditional modern prints and lengths, yet still keeping in line with the strict quality hand tailoring expected of such fine garments. The designers footwear was provided by Isabella Zocchi Collezione's AW 08 line which complimented the looks perfectly with her ultra luxe style.