Gujarat excels in jewelry trade as well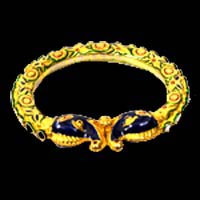 The city of Rajkot, Gujarat, is gradually becoming a center for gold ornaments and evidencing this is the fact that over 50 percent of India's exquisite jewelry is supplied by Rajkot.

Engaging some 50,000 goldsmiths and skilled artisans, Rajkot has some of the finest wedding jewelry to offer to its customers. So much so, that it has, till now, never failed to attract foreign buyers and export orders.

What gives the jewelry its quintessence ethnic touch, is its exceptionally beautiful design that is hand cut, requiring more than 10 days to prepare a jewelry set. Goldsmiths of Rajkot ensure to keep pace with the changing trends in jewelry designing and customer preference and the latest trend demands jewelry weighing between 200-300 grams.

From meenakari diamond jewelry sets to gem studded enamel works, Rajkot has a whole lot to cater to both domestic and foreign buyers. An interesting fact about the city is that it consumes an average of 2,000 kilograms of gold every day. This can give a clear idea about the growing, already gigantic, jewelry business of the state.