1891 by Glenmuir with greater emphasis on fashion, style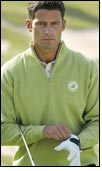 Glenmuir, one of golf's longest-established apparel brands, has redesigned its product branding, and will bring its distinctive 1891 logo to the fore across its 2008 collections.

As Glenmuir set about designing its Spring/Summer and Autumn/Winter '08 collections - with the greater emphasis on fashion, style and colour that has seen a steady increase in the company's UK business - it made sense to launch these new collections with fresh branding and packaging.

The men's range has been segmented into three collections – 1891 by Glenmuir, Men's Performance Series, and Men's Classic Collection – with each collection featuring the distinctive Glenmuir 1891 logo in new back neck labels, swing tickets and packaging.

The flagship '1891 by Glenmuir' collection features coordinating luxury mercerised cotton shirts, Pima, Lamora and cashmere knitwear to create a collection bursting with style, fashionable colours, and quality.

A stylish black/silver theme is used on the branding, with the iconic 1891 logo applied in subtle new back neck labels and woven tabs.

The 1891 by Glenmuir collection embodies the style, elegance and attention to detail that lie at the heart of Glenmuir's design philosophy.

The new Men's Performance Series showcases new Coolmax and Hi-Cool performance shirts, Storm Bloc wind shirts, and Rain Bloc waterproofs, and the branding on all styles features striking fire colours and hi tech printed rather than woven back neck labels.