Glenmuir Men's Performance range expansion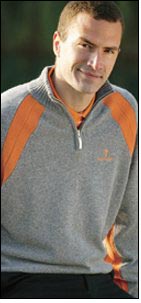 Glenmuir's latest Spring/Summer '08 collection features an all-new range of Men's Performance Shirts which use innovative moisture management systems to keep the golfer cool and dry on the course.

The Lanark, Scotland-based company, one of the most famous golf apparel brands in the world, has introduced five new short-sleeved Men's Performance Shirts – each designed with a neat athletic fit to enhance the performance of the technical, moisture-wicking fabrics.

The 100% polyester Performance Pro and Performance Club shirts both feature the superior Coolmax Active Performance system, which cleverly moves perspiration away from the body to the fabric's outer surface, where it can evaporate quickly.

This garment technology not only keeps the golfer dry and cool, it means the shirts dry faster than other fabrics and also deliver an outstanding UPF15+ ultraviolet protection factor from the sun's harmful rays.

The Performance Pro is a three-striped, raglan-sleeve shirt with anti-curl collar and is available in three colours (white/light blue/black, white/sand/black and navy/white/yellow) reflecting Glenmuir's exciting new Freshwater, Tropical and Sunset Beach colour palettes.

The Performance Club is a single colour, textured stripe shirt in Light Blue, White or Yellow. Both shirts feature Glenmuir 1891 embroidery on the right sleeve and are available in sizes S-XXL.

Glenmuir has also introduced three new shirts featuring the Hi-Cool Moisture Management System – the Hi-Cool Zip, Hi-Cool Mock and Hi-Cool Panel.