Great satisfaction for Modaprima 63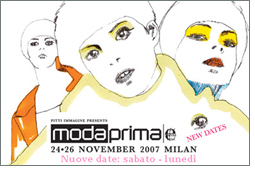 MODAPRIMA exhibition is scheduled to be held on May 24-26, 2008 at Milan.

Modaprima no. 63, the international event showcasing men's and women's fashion and accessory collections created for large and medium scale distribution (24-26 November 2007, at the MIC-Milano Convention Centre at Fieramilanocity), closed after presenting over 200 collections for the 2008/2009 fall-winter season and sneak-peeks of the 2008 spring-summer collections.

A total of 2,253 visitors attended over the three days of the event, the same level recorded for the November 2006 edition.
Nearly half the visitors came from abroad – 1044 buyers from around 50 different countries – underlining the high level of internationality of this event.

Japan once again topped the list of foreign visitors with a delegation of over 220 buyers, followed by Spain, Turkey, Greece, Portugal, Russia, Germany, Brazil, Poland, France, Belgium, Canada and the United States.

Mention should be made, in particular, of the excellent performances from emergent countries such as Brazil, Hong Kong, new Eastern European markets like Poland and Latvia, as well as the increase in buyers from the United States, the United Kingdom and the Czech Republic.

The promotional strategy that Pitti Immagine is carrying forward with the ICE - Istituto per il Commercio con l'Estero (Italian Foreign Trade Commission) was also a success, bringing important international buyers to the event.