South Coast Plaza announces nine new openings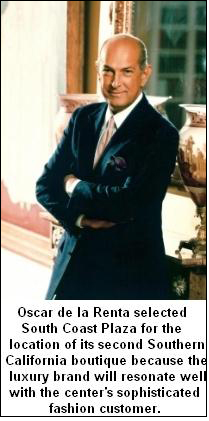 South Coast Plaza is pleased to announce the upcoming openings of: Oscar de la Renta, ROLEX, Piaget, NapaStyle, Canali, AG Adriano Goldschmied, Calvin Klein, Harry Winston and Charlie Palmer Restaurant.

"Offering the finest shopping experience is our no. 1 goal. South Coast Plaza is committed to quality and to its customers. 2008 promises to be an exciting year as we welcome world renowned international fashion houses, classic American designers and a celebrated restaurateur to the center," said Debra Gunn Downing, Executive Director of Marketing, South Coast Plaza. "And this is just the beginning. There are more exciting announcements to come."

Oscar de la Renta – Oscar de la Renta will open a 2,600 sq. ft. boutique at South Coast Plaza on February 18, 2008. Offerings will include the complete ready-to-wear collection, select items exclusive to de la Renta boutiques, and a full range of accessories, including shoes, handbags and jewelry.

"As the ultimate destination for luxury shopping in Orange County, South Coast Plaza is the perfect location for an Oscar de la Renta boutique. What the Segerstroms have developed is unique. We look forward to being a part of it," said Alex Bolen, Chief Executive Officer of Oscar de la Renta, Ltd. The Penthouse, Level 3. Orange County exclusive.

ROLEX - The first domestic ROLEX flagship store will open at South Coast Plaza in April 2008 and will feature one of the largest collections in the world – morethan 1000 timepieces. The store will be designed in similar fashion to ROLEX boutiques in Beijing, Geneva, Rome and Tokyo. Opening April 2008. Carousel Court, Level 2. U.S. exclusive!