Tanaka Kikinzoku unveils gold coin gown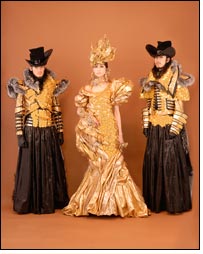 The largest bullion house of Japan, on February 14, revealed a sparkling gown beautified with hundreds of gold coins.

Designed by students of Tokyo's Bunka Fashion College, the dress was created by Tanaka Kikinzoku Jewellery K.K. using 325 Austrian gold coins issued to venerate the Vienna Philharmonic.

In an exclusive interview with Fibre2fashion, official from Tanaka Kikinzoku Jewellery K.K. disclosed saying, "The gold coins weighed an astounding 7.9 kilograms and valued about 28,670,410 Yen as of February 14, 2008."

Two men's jacket one with the cape and another without, but still making use of about 1,190 gold coins, will also be displayed very soon. Each of these jacket costs 71,081,562 Yen and 56,251,278 Yen respectively.

The Tanaka Kikinzoku Group has no plans of selling the garments and considers them to be a marvelous creation meant for display.