UAE reports higher growth in retail gold sales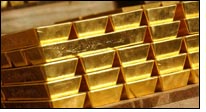 The World Gold Council's regional office in Dubai announced that the UAE gold jewellery consumption increased by 8% in 2007 compared to 2006 despite the 15% increase in gold price.
The retail gold sales increased by 24% in 2007 in UAE, 33% in KSA, 29% in Egypt and 19% in the other Gulf countries.

The total gold consumption (jewellery & investment) in terms of tonnage increased from 315.6 in 2006 to 348.4 tonnes in 2007.

High and volatile gold prices had a major impact on the fourth quarter of 2007. The gold jewellery consumption dropped by 9% in the UAE, 10% in KSA, and 11% in other Gulf countries.

The effect of the gold price increase is world wide and had an effect on tonnage terms from year-earlier levels. This trend was most keenly felt in India, the world's largest and also most price sensitive gold market, where demand fell 64% on year earlier levels follow 40% growth in the first three quarters.

The US was also negatively impacted with a combination of a weak economy, poor retail environment and record prices denting jewellery demand which stood 14% down on 2006 figures.

The Middle East showed a far less extreme as the demand was not drastically affected as the rest of the regions. In addition for the year as a whole demand increased in the M.E and Egypt specifically was an exception in Q4 with demand rising on the back of economic recovery resulting in 12% growth for the year as a whole.