Vision-X draws international specialists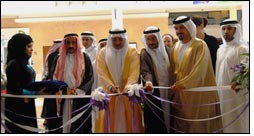 Vision- X Dubai 2008, the region's premier business platform and conference for the optical and ophthalmic industry, was officially inaugurated by the UAE Minister of Health, His Excellency Humaid Mohammed Obeid Al Qutami.

The event, which runs from 18-20 February at the Dubai International Convention and Exhibition Centre, has major national pavilions from Italy and Germany this year, displaying a range of the latest fashions and innovations in eyewear and eye care.

Exhibitors and visitors on the first day have responded positively to the decision by organiser Dubai World Trade Centre (DWTC) to segment the show into two specific industry areas, Vision-Lifestyle for fashion and Vision-Opticare for medical and technical professionals.

Helal Saeed Al Marri, Director General, DWTC, said: "This year's Vision-X Dubai has been tailored to meet the needs of the industry, offering a number of value-add events including the region's first dedicated conference for Optometrists and the first-ever Vision-X Fashion Show.

We are very encouraged by the strong support of our exhibitors for these new features, and anticipate a strong response from visitors."

Organisers report enthusiastic opening and high visitor attendance on the first day, demonstrating the dynamism of the optical and ophthalmic industries in the Middle East and wider region.

"The evolution of Vision-X Dubai as a trade platform reflects the ongoing development of the industry as a whole, as both the fashion and healthcare sectors continue to offer a wider, more diverse range of products and treatments," said Peter Frankenstein, Manager of Consumer Optics & Spokesperson for SPECTARIS, part of the German pavilion, the largest national pavilion at the show.