180 lingerie experts together at Symposium of Intimate Apparel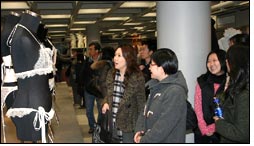 Jointly organized by The Hong Kong Polytechnic University (PolyU) and the DeMortfort University (DMU), the first International Symposium of Intimate Apparel was held on 17 January (Thursday) on PolyU campus, to promote the exchange of the latest knowledge and development of intimate apparel among academics and industrialists.

The Symposium brought together some 180 local and overseas lingerie experts, including prominent intimate apparel industrialists and academics, to share their insights and experiences. It was the first joint effort of the Ace Style Institutes of Intimate Apparel of PolyU and DMU, and was also an event to celebrate the 50th Anniversary of PolyU's Institute of Textiles and Clothing (ITC) and the 60th anniversary of DMU.

A major highlight of the Symposium was the presentation by Dr Winnie Yu, Associate Professor on her pioneer research on a new bra sizing system for Chinese women. This breakthrough has been named the Best Invention of the Year 2007 by Time Magazine. In addition, Ms Julie King and Ms Alison Prince, Head and Senior Lecturer of DMU's Department of Fashion and Textiles, also shared their knowledge on plus-size bra design.

Other distinguished speakers included Mr Kenneth Wong, Vice Chairman of Hong Kong Intimate Apparel Industries' Association; Dr Rong Zheng, Associate Dean and Associate Professor of Beijing Institute of Clothing Technology, PRC; Mr Ralph Jansen, Executive Director of Triumph International Overseas Ltd; and Mr Tsang Kam-lam, General Manager of Environmental Management, the Hong Kong Productivity Council.