IWED to showcase high quality wedding products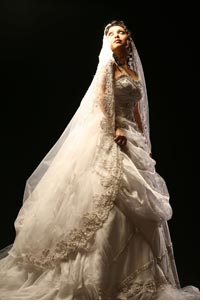 Sales of exhibition space for the International Wedding Exhibition & Fashion Show 2008 (IWED) taking place in May are up by 80% in the last two months, and continue to rise, as exhibitors scramble for space at Qatar's first major wedding exhibition, organizer Qatar Expo has announced.

Leading the way are Lebanese wedding designers (up 28%), followed by UAE exhibitors (21%), Italian bridal fashion houses (14%) and Kuwaiti wedding planners (13%), with significant extra bookings from Singapore, Saudi Arabia, India and Hong Kong.

Fernando De Guama, Qatar Expo's Director of Exhibitions and Events commented: "Our research has showed an expected industry increase by 300% over the next five years reaching a total value of USD1.5 Billion in the middle east region which make an International Wedding Exhibition and Fashion Show a must to have event that will meet this industry growth."

Qatar wedding industry growth is caused by to several factors, Qatar Expo research found. The changing face of the country's real estate sector, continued growth in the hotel industry and an increase in the size of Qatar's expat community, have all attracted dress designers and wedding organizers keen to meet demand from national and expat weddings.

With such a fast expanding wedding market, it is no surprise IWED has attracted leading wedding designers from New Zealand, Italy, United Kingdom, Asia and every GCC country, all eager to reach the world's most lucrative wedding market.