Damas launches new watch with skeletonised movement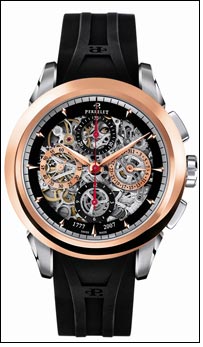 Damas, the leading international jewellery and watch retailer in the Middle East, presents Perrelet – the distinguished brand of exclusive timepieces founded by master watchmaker Abraham-Louis Perrelet who in 1777 invented the first winding system based on a central rotor.

Marc Bernhardt, CEO of Perrelet, enthused: "On this special occasion the company has launched a new watch with skeletonised movement which comes in the limited edition of 77 pieces.

By way of an extremely laborious process, a master craftsman goes to the limit of removing as much material from the movement parts but stopping at the point which still allows the movement to function.

Thus the wearer is offered an inhibited and direct view into the intricacies of the chronograph movement. We are excited to offer these very important pieces to serious watch lovers in the region."

The chronograph movement, P-231, allows to precisely measure the lapsed time between two events. By simply pressing on the reset button, the time is returned to zero. This remarkable movement is set in a fantastic case which proudly has the same features as the Titanium collection, but is made of a combination of white and rose gold. The carefully decorated rotor with the signature Perrelet 'P' is visible through the open case back.

Tawhid Abdullah, Managing Director of Damas commented, "The presence of Perrelet in the Middle East is an affirmation of the region's reputation as a top luxury destination. The brand offers outstanding timepieces that are worn by royalty, world leaders and celebrities and we are very proud to bring these unique creations to our clients."

In tribute to Abraham-Louis Perrelet, all Perrelet timepieces are equipped with automatic movements. The rotors, i.e. the oscillating weights bearing the hallmark 'P', feature glass segments, allowing an unimpeded view into the movement.

All Perrelet movements are manufactured in Switzerland in accordance with the most exacting quality standards. Assembly, quality check and final control are performed again in Perrelet's manufactory plant in the Swiss Jura.