Fashion specialists get good benefits from Vision-X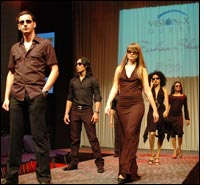 The new format for Vision-X Dubai, the region's premier business platform and conference for the optical and ophthalmic industry, has resulted in strong business for healthcare and fashion eyewear specialists in 2008, according to exhibitors.

Organiser Dubai World Trade Centre (DWTC) segmented the show into two specific industry areas for 2008, Vision-Lifestyle for fashion frames, sunglasses and accessories and Vision-Opticare for medical and technical professionals, to enable more targeted networking for trade visitors. The results have been extremely positive for both healthcare and fashion specialists attending the show, which closes.

"This has been a great show to develop more sales, increase market share and make new contacts in this fast-developing region. We have introduced three new brands in our portfolio –Levi's, Giordano and Storm – and the response has been exceptional.

This is by far and away, one of the most exciting markets to be doing business in at the moment and Vision-X Dubai has provided an ideal point of entry," said Mauro Maloberti, Export Manager, Spa Italy.

Other international exhibitors agreed with the positive direction of the trade show. Kefan Optics, a leading provider of Nikon Ophthalmic lenses in the Middle East, reported significant progress from its participation in the show.

"This is our third consecutive year exhibiting at Vision-X Dubai, and we have continued to enjoy a remarkable response from customers across the GCC.

Given the strong interest we have generated, Kefan Optics has opened two new Nikon distribution offices in Riyadh and Tehran, and this event has provided an important platform for expansion because it has enabled us to network effectively with these markets," said Julie Hayes Cockton, Business Development Manager, Kefan Optics.

DWTC organised a range of new initiatives for 2008, including the first-ever Vision-X Dubai fashion show. Participants and visitors praised the innovative idea.