A&C S/S collection inspired by Life in slow motion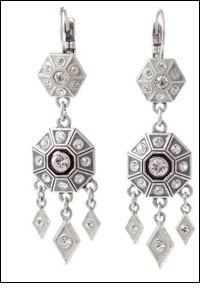 A&C proudly presents the inspirations, trends & colors behind our new spring/summer collection 2008.

This summer we are inspired by "Life in slow motion" – a tribute to the small, beautiful moments of life… Like the view of beautiful blooming lilies in May, the feeling of a soft, warm pebble in your hand - and rings spreading out and out on the shimmering surface as you throw the pebble into the water….

We have sorted our inspiration and the season's trends into 5 themes called: "Sweet Romance" is our main theme – a romantic, very feminine and dreamy theme inspired by air, with light chiffon materials, silk fabrics and soft colours.

Whites and "powder" colours are well represented in the romantic fashion this summer. Use metallic jewellery on powder coloured clothes. Designers have been inspired by the concept of flying high among the clouds.

Our next theme of inspiration is called "Water". The catwalks showed a lot of shiny, shimmering silver materials and transparent details.

A fresh look with associations to the shimmering reflections on the water surface. Monochrome black and white combinations are important in this theme and look good with metallic jewellery, like from our collection called "Traces".

Our third theme of inspiration this summer is called "Sculpture". The clothes and accessories are sculptured - the colours are neutral and natural. Clay colours are always elegant. Jewellery from our "Scattered Stones" collection fits this style and colour palette perfectly.