Bond No. 9 partners with Andy Warhol Foundation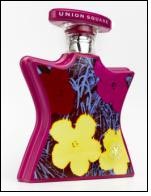 "My favorite smell is the first smell of spring in New York," Andy Warhol once said.

Warhol began painting and silk-screening colored flowers during the 1960s, and returned to the subject in 1970, when he developed a portfolio of vibrantly colored flower screenprints at the first of his two studios on Union Square.

Both the flowers and the location were the inspiration for Andy Warhol Union Square, the latest in Bond No. 9's series of limited edition collectible Warhol perfume ($195 for 100ml; $135 for 50ml).

"Working with Bond No. 9 represents a unique, unexpected, and exciting opportunity to introduce Warhol to an ever-widening audience," said Michael Hermann, director of licensing at The Andy Warhol Foundation.

The connection between the Warhol Foundation and Bond No. 9 is New York. If Andy Warhol was a mirror of his time, he also reflected the vitality and creativity of his adopted city.

Marking the junction of Broadway and Park Avenue South between 14th and 17th streets, Union Square and the park within it have a storied history as a choice location for outdoor public gatherings-notably union rallies in the early 20th century.

These days, Union Square is thriving, with a busy Greenmarket and a lively bar and restaurant scene, a far cry from its deteriorated state when Warhol arrived in 1968.

He stayed put, despite an attempt on his life outside his studio later that year and remained in Union Square until 1984.