Aquamarine Leisure to participate in Mumbai Boat Show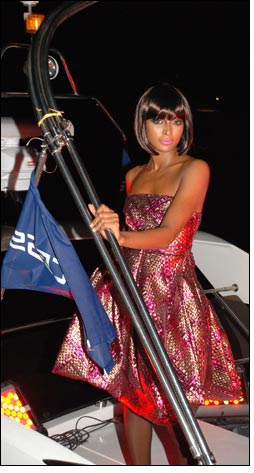 Vishal Chaudhry, Director, Aquamarine Leisure (P) Ltd., the exclusive distributor for Princess Yachts in India showcased the P61 & P42 last night.

They are participating in 'The Mumbai Boat Show' between the 28th of February '08 to the 2nd of March '08 at The Gateway of India.

India`s celebrated designer Rohit Bal showcased his latest IFW collection, at an exclusive preview of the Princess 61 and Princess 42.

The collection is inspired by an age-old art form titled 'Ashta Dhatu'- an ancient artistic tradition that involves the combining of 8 different metals for the purpose of creating a variety of aesthetic objects.

The color palette includes Gold, Metallic Copper, Silver, Iron, Lead, Tin, Lead, Zinc and Mercury with strong Indian elements in terms of the fabrics, embroidery, and liberal use of specially created handcrafted 'Gota'.

The silhouettes have been kept contemporary and international, with a strong element of luxury and sensual appeal.

Present at the preview were David Pyle & Bill Barrow of Princess Yachts, Arti & Kailash Surendranath, Bandana Tewari, Neha & Pradeep Hirani, Sabina & Anil Chopra, Inder Bajwa & Kedhar Gawde.

Showcasing the collection were top models Nina Manuel, Mridula Chandrashekhar, Mashoom Singha, Mughda Godse & Priya Reddy.

Priced at 3.3cr and inclusive of freight and duty, the P42 combines speed and superior sea keeping with luxury, comfort and style; ideal for short distance cruising.