Red carpet nominees hope for Gold Havaianas Flip Flops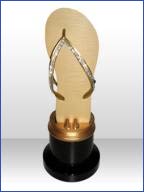 More than the stars shone during Hollywood's festive awards season! Sparkling crystal and gold Havaianas flip flops were awarded to Oscar nominees during this year's star-studded red carpet events.

Each hand-stitched, Swarovski crystal encrusted sandal gleamed from inside a golden presentation package, standing tall on a richly polished base of black and gold.

These exclusive sandals went to each nominee as part of the Distinctive Assets "Everybody Wins at the Oscars Nominee Gift Basket" that were sent to each star who is nominated yet does not win on the big night.

Filled with custom-made and specialty products, the basket is valued at over $50,000.00 (Note that there is no affiliation with A.M.P.A.S. of the official Academy Awards).

To keep the celebration going, the stars who actually won on Sunday night will receive their pair of special Havaianas directly from Elaine Sugimura, President of Alpargatas US / Havaianas.

This is all part of a tradition begun six years ago by Alpargatas SA. Each awards season, the Brazilian design team works to create new and exciting pairs and packaging for their celebrity fans.

"This year's Swarovski and gold straps give a spectacular flair and sparkle to the sandal that celebrities call the 'must have flip flop,'" said Sugimura. "These sandals are designed to be very chic yet very comfortable – the perfect complement for day or evening," she added.

While for the past five years, each special design was limited to red carpet events, "We are excited that this year, we will make these custom designed sandals available for purchase," said Glen Lagerstrom, Executive Vice President of Alpargatas US/Havaianas. "They will be carried at select retailers as part of our spring/summer 2008 collection."