Taree Birse wins TAWFA 2008 Supreme Award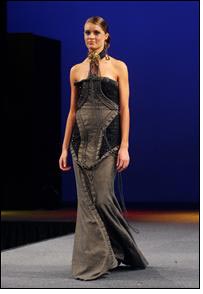 Australian Merino wool was the highlight of The Australian Wool Fashion Awards (TAWFA) at the annual awards night in Armidale, New South Wales on Saturday 1st March 2008.

The 28th The Australian Wool Fashion Awards (TAWFA) event recognised the commemoration of the 200 year anniversary of the shipping of the first bale of wool to the UK for commercial sale. A retrospective of Supreme Award winning garments were on display, along with a selection of historic woollen garments dating back to the 1800s.

The TAWFA 2008 Supreme Award winner was Taree Birse, a student at the Gold Coast's Academy of Design. Taree Birse also won the Tertiary Award, and work experience with Alex Perry.

Grafton High School distance education student, Jessica Wainwright is set to start her career in the fashion industry, winning the School donated fabric section, the overall Secondary School Award and the prestigious Raffles College of Design and Commerce Scholarship (formerly KvB Institute of Technology) 3-year Bachelor Degree half tuition fee $24,840 scholarship.

From small beginnings, starting out as the Wearable Wool Awards under the umbrella of Wool Expo in 1981, TAWFA now commands respect in both the fashion and wool industries alike, showcasing the use of Merino wool by national and international fashion designers and students.

The competition's main aim is to educate and encourage young designers in the wonderful qualities of wool. Secondary school students through to tertiary fashionstudents are enticed to use the many versatile wool and wool blend fabrics to create their entries.