Duck brand duct tape stuck at Prom Scholarship Contest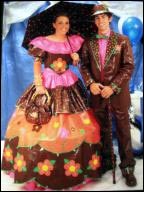 Prom styles have come and gone over time, but there's one fashion that's remained true for the last seven years the duct tape dress and tux! That's right, high school students across the country are being encouraged to ditch their overpriced, over-the-top designer duds and design a stylin', one-of-a-kind outfit made out of duct tape!

In its eighth year, the 2008 Duck brand duct tape Stuck at Prom Scholarship Contest challenges high school students to create and accessorize their prom formalwear with America's favorite fix-all – duct tape. And, it's up to the public as to who has the best outfit! Online voting will decide the winning couple from 10 finalist couples.

Rather than worrying about wearing the same dress or tux as another student, invest in some rolls of duct tape and create a unique, stylish outfit that is sure to be like no other. In addition to getting creative with their promwear, students will also have the opportunity to make college a little more affordable. The couple receiving the first place title will receive a $6,000 cash scholarship for college.

Duck brand duct tape is available in 20 colors and patterns, so students can pick their favorite color combinations, get creative with their accessories and set the newest fashion trends. And, with choices like Duck brand Funky Flamingo duct tape, and colors and patterns like purple, aqua and chrome, the choices for creativity are endless!

Sponsored by Henkel Corporation, the Duck brand duct tape Stuck at Prom Scholarship Contest will reward students for their creativity and originality in creating or accessorizing prom formalwear with duct tape.

First place winners will receive a $3,000 college scholarship each a total of $6,000 for the couple and $3,000 for the high school hosting the winning couple's prom.

The second place winners will each receive a $2,000 college scholarship, with the high school receiving $2,000. The third place couple will each win a $1,000 college scholarship, and the high school will receive $1,000.