Cool-jams pajamas may help to remedy night sweats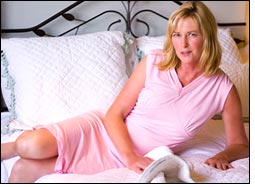 What do night sweats and a summer in Turkey have in common? For 49-year-old mompreneur Anita Mahaffey, the connection goes deep and years later catapulted her into a business manufacturing and designing a line of night sweat sleepwear called Cool-jams.

"As I boarded my flight in 1976, to spend the summer as a Turkish exchange student, I would have laughed my way off the plane if someone told me that in 30 years, I would be back in Turkey manufacturing hot flash pajamas. I had no idea that my past would come back to tap me on the shoulder in such a big way."

Fast forward to the birth of Mahaffey's second child in 1987. To spend more time with her growing family she left corporate marketing to pursue her dream of entrepreneurship.

"While researching different business ideas, I discovered that Turkey had grown into one of the biggest textile producers in the world," Mahaffey explains.

"It was natural for me to think of establishing some kind of import/export business there. I understood the culture and loved the people."

Mahaffey took another trip to Turkey and re-established relationships with acquaintances from her exchange student days who were now successful business owners.

By collaborating with a Turkish friend, she soon began developing sleepwear programs for many of the largest US retailers and catalogs.

While making a routine design visit to her factory in 2005, she discovered a new micro-fiber fabric. Mahaffey, an avid hiker and runner, was accustomed to wearing micro-fiber apparel while exercising because it wicked away perspiration and dried quickly.