Canopy, luxury organic home fashion collection for spring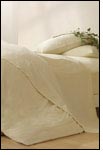 Under the Canopy, the premier organic lifestyle brand, launches its cutting edge 2008 Spring Season with a firm commitment to environmental and social responsibility. Launch of Luxury Home Fashion Collection at Natural Products Expo West.

Under the Canopy's 2008 Spring Season includes the launch of "Canopy," a luxury organic home fashion collection. The new line includes duvets, pillows, shams, blankets, sheets and towels made from 100% organic cotton.

All dyes are low-impact and eco-friendly. The Canopy Collection will be showcased at the Natural Products Expo West to be held March 14-16 at Anaheim Convention Center in California.

"It is a little known fact that there are actually two pounds of pesticides in the average cotton sheet. Regular cotton is the most-sprayed crop [with pesticides]," said Under the Canopy founder Marci Zaroff.

"We truly believe that 'organic is the new luxury,' especially when it comes to the home, and we are proud to be in the marketplace with such a standout product."

Under the Canopy will be showcasing 15 outfits from its apparel collection at the Think Vitality Fashion Show on Saturday, March 15. Additionally, the organic fashion line is a sponsor of the event.

Of note for this season is Under the Canopy's launch into several major retailers and catalogs specifically Macy's (baby products), CB2 (home collection), Origins (spa collection) and Red Envelope (robes).

During the months of April and May, Under the Canopy will donate 10% of all online proceeds of their "Green is Groovy" tee ($28.00) to the Rainforest Foundation.