Gold Expressions show arrives in Dubai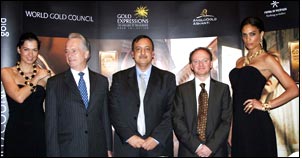 Following its successful launch at the Vicenza Fair in January 2008, Gold Expressions the Language of Italian Design kicked off its global tour with the arrival of the gold jewellery collection in Dubai.

Organized by the World Gold Council (WGC) in partnership with the Vicenza Fair the world-famous trade event for jewellery, and AngloGold Ashanti the world's second largest gold mining company, the definitive 317-piece gold jewellery collection represents 60 leading Italian manufacturers and is considered as a benchmark for gold jewellery design and craftsmanship worldwide.

As one of the World Gold Council's leading and most successful marketing initiatives, Gold Expressions promotes innovative 'Made in Italy' design and product excellence in order to stimulate global consumer demand for gold jewellery.

It unites Italian gold jewellery designers and manufacturers and provides an insight into the latest industry research and trends which are instrumental in the design of innovative and contemporary gold jewellery.

At the press conference officially launching Gold Expressions 2008 in Dubai, Moaz Barakat, Managing Director of World Gold Council in the Middle East, Pakistan and Turkey, commented: "The Middle East is one of the most important markets worldwide for Italian gold jewellery products.

We are proud to say that we have risen to become the world's top import destination of Italian gold jewellery products. A recent study cited by independent GFMS reported that the UAE imports AED 3.1 billion worth of Italian jewellery versus AED 2.9 billion imported into North America, officially making the UAE the largest market for Italian Gold Jewellery worldwide.

With Italy's pivotal role as the centre of innovation and excellence in the design and manufacturing of gold jewellery, we deem the thriving Italian gold jewellery industry essential to the growth of global gold consumption."

"Results show that the UAE gold consumption in terms of tonnage increased from 92.4 tonnes in 2006 to 99.8 tonnes in 2007, contributing to an 8% increase. The UAE sales value increased from AED 7.7 billion in 2006 to AED 9.5 billion in 2007, a 24% increase.

The jewellery sector is of great importance to the World Gold Council because it accounts for around 75% of world gold demand therefore driving demand for gold jewellery is a key objective for us.