Couture Fashion Week ends on a high note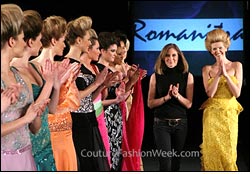 Couture Fashion Week, the prestigious semi-annual fashion event, ended on a high note in New York City in February 2008. The latest fashion shows, receptions and parties were well attended by diplomats, press, fashion buyers, socialites, VIPs and fashion lovers from around the world.

In addition to the fabulous fashion shows, attendees at the three-day event, held in the elegant ballroom of the Westin Times Square, enjoyed riveting performances by world-renowned violinist Alexander Markov accompanied by concert pianist Heike Doerr, accomplished cellist Gjilberta Gelaj accompanied by concert pianist Svetlana Gorokhovich, singer Lara Janine and the acrobatic Aerial Duo/Mantryx.

Sublime creations shown on the runway
Dynamic fashion designer Jean Fares of Lebanon presented his latest collection of inspired evening couture creations entitled "Living...Energy" inspired by the ideal wearer of his designs: a dynamic, charming, thrilling and energetic woman. A special encore presentation of the fashion show was held a week later at The Colony Hotel in Palm Beach, Florida. "Jean Fares's creations received an enthusiastic reception from our audiences in both New York and Palm Beach… as one of the guests said, each gown was fabulous and then the next one was even better," commented producer Andres Aquino.

Innovative award-winning fashion designer Catalin Botezatu of Romania presented his latest femme fatale creations. The spectacular event deliveredmore than expected. The editor of Black Tie magazine observed: "It does not get any better than this… these shows have reached a new height…" Another editor commented "Couture Fashion Week is definitely a very distinguished fashion week and different from anything else we have in New York." Mr. Botezatu's collection exuded an evocative appeal and a vaguely gothic flavor with a seductive charm. His team of hair and makeup artists that accompanied him to New York, created unforgettable dramatic looks that paired seamlessly with the striking ensembles.