New Nike SPARQ Training products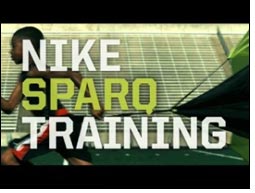 Nike announced Nike SPARQ Training, its most comprehensive performance training launch ever, combining a relationship with SPARQ, high performance products, online experiences at nike.com, a new association with Velocity Sports Performance Centers, and a multi-media campaign called "My Better."

The centerpiece of Nike's efforts is SPARQ which stands for Speed, Power, Agility, Reaction and Quickness. It offers dynamic performance training designed to make young athletes better on game day. With a mouse click, download, or visit to a training center, Nike SPARQ Training gives athletes access to premium equipment, performance training experiences and over 750 certified trainers.

In the last two years, more than 44,000 athletes from 2,000 teams across 38 states were SPARQ tested. A "SPARQ Rating" enables athletes to track their progress, measure improvement and benchmark against other athletes worldwide. Since 2004, more than 200,000 official SPARQ Ratings have been registered.

"Nike SPARQ Training is a quantum leap forward in helping athletes perform better in their chosen sport," said Joaquin Hidalgo, Nike's Vice President of Global Marketing. "Young athletes can set goals, rate themselves and track their progress. We are transforming the sports landscape with these new products and comprehensive training experiences."

New Nike SPARQ Training Products

Designed exclusively for Nike SPARQ Training, Nike introduces a new line of footwear, apparel and equipment.