Top five essentials for spring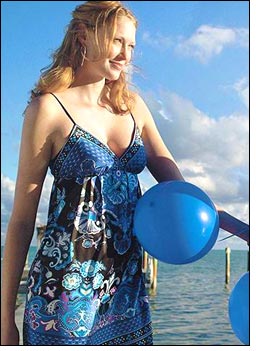 Feel free to Dress out Loud for spring when bright colors and stand out prints emerge as the looks of the season. Kick your wardrobe up a notch with pretty, feminine fashion that is fun to wear. "It's been many seasons since we've seen such a vibrant, fun color palate in fashion," explains T.J. Maxx Style Expert Sonya Cosentini. "We're seeing fresh, bold colors and graphic prints on everything from casual to career looks."

A recent survey conducted by Caravan Opinion Research for T.J. Maxx revealed that almost half (44%) of respondents chose the print dress as their must have for the season, with plaid shorts a close second (38%). The same survey also noted that blue is the color most women will want this spring (33%), followed by green (23%).

Color Me Beautiful:
Color plays a major role in fashion this season, so it's easy to transition your wardrobe by mixing in the top spring color choices. Look for such hues as cobalt, turquoise, green, lilac, fuchsia, cherry red or lemon yellow. Black and white and all white is trés chic but update these looks with the pop of colorful accessories or shoes.

The variety of designs includes florals, bold graphics, color blocking or even madras plaid. "Prints are a simple yet chic way to update your wardrobe," advises T.J. Maxx's Cosentini. "Pair a dramatic print top or dress with simple neutral accessories; a sense of balance is key."

Make A Statement:
The must-haves that stand out as statement pieces this year include the dress, the cropped jacket, wide-leg pants and printed shorts. The dress is most definitely an office or evening wardrobe staple.