Damas launches Ceramik Collection of Italian Barakà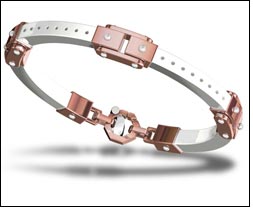 Damas, the leading international jewellery retailer in the Middle East, beckons men to a world of elegance and sophistication with the launch of the Ceramik Collection, the latest offering of famed Italian jewellery house Barakà.

Set apart by its compelling character and quality, the all-men's collection offers bracelets and cuff links accenting allure and magnetism.

At the exclusive gathering to mark the launch of the new collection in Dubai, Cristiano Benvenuti, Sales Manager of Barakà, commented: "Barakà is a pioneering all-Italian jewellery brand for men.

It is backed by three decades of know-how on techniques, materials and craftsmanship that have set the benchmark of excellence in its field.

Our latest offering – the Ceramik Collection – creatively combines precious materials with high grade ceramic. We are very pleased to bring these innovative creations to our clientele in the Middle East."

"I am confident that the Ceramik collection will be greatly welcomed by men of impeccable taste in the region. Barakà is a member of Italian Luxury Industries SpA and one of the foremost international brands of men's jewellery.

Crafted from the choicest materials using a combination of traditional and modern methods, its latest collection is composed of highly defined pieces that go well both in the boardroom and as evening accents, greatly enhancing a man's presence and appeal," said Tamjid Abdullah, Deputy Managing Director of Damas, the exclusive partner of Barakà in the Middle East.