D'Orazio & Associates award season red carpet wrap-up 2008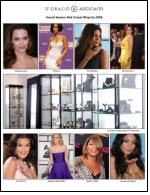 Founded in 2001, D'Orazio & Associates is a public relations firm specializing in fine jewelry, with a PR showroom in the chic Melrose district in Los Angeles, California.

D'Orazio & Associates has built an enviable client list, which includes such acclaimed designers as Bochic (New York), Amrapali of Jaipur (India), Le Vian (New York), Hellmuth (Germany) Autore (Australia) and Frey Wille (Austria).

The private showroom was the first of its kind to open in Los Angeles two years ago in direct response to the needs of stylists and celebrities, who prior to its opening, had to rely on retail show rooms or shipments from designers when needing jewelry for events and photo shoots.

"D'Orazio & Associates is a one-stop-shop. I love it. They are very easy to deal with and the pieces are beautiful," says Angelina Jolie's stylist Jen Rade. The PR showroom remains unique, as the only showroom to feature fine jewelry exclusively.

D'Orazio & Associates offers clients exclusive public relations services targeted to A-list celebrity placements at red carpet events, and photo shoots for a broad range of publications including Glamour, InStyle, Sports Illustrated, Town and Country, W, Harpers Bazaar and Shape among others.

This year's red carpet season was deemed a success by D'Orazio & Associates clientele even though it fell in the middle of the writer's strike and subsequent cancellation of the Golden Globes.

D'Orazio & Associates strong working relationships with celebrities, stylists, editors, publicists and photographers secured placements on the following celebrities: Minnie Driver, Rihanna, Teri Hatcher, Angelina Jolie, Halle Berry, Eva Mendes, Natasha Bedingfield, Queen Latifah, Miley Cyrus and Vanessa Hudgens.