Robust global demand brings spark to gold prices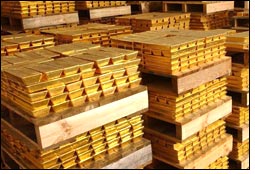 The gold price fixed above the 'symbolic' $1000.00/oz mark reaching $1,003.50 at the London PM fix, after sailing through previously uncharted territory since the start of the year. On 3 January this year the gold price reached $865.35/oz, breaking the $850/oz record set momentarily back in 1980.

The rise translates to an annual increase of more than 52 per cent on the average price in March 2007, which sat at $655.89/oz.

Moaz Barakat, World Gold Council's Managing Director for the Middle East, Turkey and Pakistan commented: "The gold price has continued to surge forward on the back of strong investor sentiment reaching the $1000 mark, much quicker than even many bullish analysts had predicted.

"We are seeing encouraging recent trends particularly in the investment sector, in a number of the world's key gold markets as investors take 'flight to quality' in the face of the credit squeeze and ongoing financial turbulence.

Global events, including a falling dollar and rising inflationary fears, have combined with strong gold market fundamentals to create positive conditions for the gold price.

Whilst the rising and volatile price has been a highly positive trend for those already holding gold, it has posed a short term problem in regard to consumer purchases of jewellery, gold bars and coins, acting as a disincentive to some buyers."

Investment demand for gold reached an all time quarterly record of $8 billion in Q4 2007. Over the year total demand for gold reached an all time high of $79bn. Today's $1000/oz record follows a sustained rise in price over the past six years.

The World Gold Council identified the following short term reasons for the recent gold price rise:
• Inflationary fears as a result, in particular, of high oil prices. Gold is seen as a hedge against inflation; while its real value can vary in the short term, its purchasing power has remained stable over centuries.