Two stylists launch their balloon collection in Fortaleza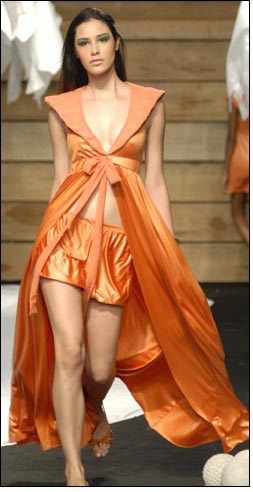 The New Contest for New Talents selection opened the schedule for the second day of fashion shows at the 9th edition of Dragão Fashion Brasil, in Fortaleza, Ceará.

Students from the following institutions, and their respective themes, participated in this first phase: Senai-CE (Conduct yourself! Neo-surrealism), IESB - Brasília and UFC (From chaos comes form).

After that, stylists Natália Viana and Larissa Fontenelle introduced their "Marx in Natura" collection, which was inspired on the works of Burle Max.

Satin, serge, jersey and taffeta were used to create romantic, light and comfortable pieces: dresses, pants, shorts and tops. Embroidery and crochet highlight the looks. The young stylists' collections use jeans. Light hues predominate.

The Jô-iola brand, by Josy Costa, Iorrana Aguiar and Lara Romcy, brought modern fashion using the "Cosmopolitan Girl" theme. Casual pieces, like short and dresses are part of the looks.

Full pieces invade the catwalk with localized volumes, such as the asymmetric balloon skirt. Cotton canvas also has its space in the brand, which also used jeans. The color chart includes blacks, grays, and ivories. Plaids and stripes are present in Jô-iola prints.

The day's line-up continued with the two stylists, Marcus Marquetti and Sang Soon Kim, of MarcusSoon and their balloon collection, inspired on the voluminous shapes linked to balloonism.

The dresses have full shapes and applications of birds, balloons and embroidered clouds. Plaids dominate the brand's prints in several sizes.