Three themes from fashion students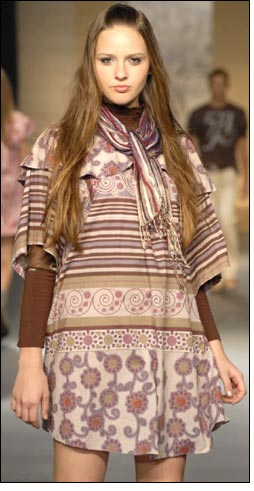 The second phase of the New Contest for New Talents opened the schedule for the third day of fashion shows at the 9th edition of Dragão Fashion Brasil, in Fortaleza, Ceará.

This time, students from the following institutions, and their respective themes, participated: Cefet-CE (Luxury Doll in pop art), Unipar (Auto da Compadecida) and Catholic College of Ceará (Charlie Chaplin).

Soon after, stylist Lindeberg Fernandes brought "the jazz era" to the Dragão Fashion catwalk. Straight from the 1920s, the pieces appear in the 21st Century with full shapes.

Jeans lead the collection, with dresses, pants, overalls and sarrouels in differentiated cuts. High waists and the elephant foot are in the details. Stones highlight the pieces and add shine. Jeans are blue, varying from light to dark.

Then, Ronaldo Silvestre sought inspiration for his exclusively women's collection in Japan's sakura flowers. Romanticism emerges in the pieces called "sakura dolls", alluding to humankind's constant search for true love.

Origami is revisited and creates new shapes and volumes. Jeans can be blue or black. Dresses, pants and blouses are among the looks.

The color chart includes lilac, blue, green and gray. The designer had the participation of the Cooperfashion from Lidianópolis, PR, Arteciga from Cidade Gaúcha, PR and Futurarte from Betim, MG cooperatives.

Stylist Wilson Ranieri underscored his presence at the event showing the collection introduced at the last edition of São Paulo Fashion Week. Weider Silverio, who was at Casa de Criadores, in São Paulo, also participated in Dragão Fashion.