Taj swanks charm of Banarasi sari to welcome spring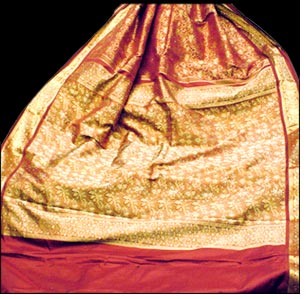 To commemorate the advent of spring, Taj Mahal Palace and Tower will get ready to welcome all its guests in the magical weave of Varanasi. Taj Hotels Resorts and Palaces salute the master-weavers of Varanasi by reviving the traditional art form and ensuring their preservation in the contemporary world.

Varanasi, a city where the threads of culture are woven into the fabric of history. Benares or Varanasi as it is known today, on the banks of the holy Ganges, is one of the oldest cities in the world, having provided succor and hope to millions of believers. In many ways, the story of Varanasi, is the story of sustenance.

The tradition of the hand-woven fabric has been replaced by power-looms, where prints have replaced the finesse and intricate beauty of the master craftsman's weave. As against the days when each weave was a work of customized, individual art to be treasured and preserved, today the master-weavers of Benares are facing neglect and penury.

It is not just their economic condition that is pitiable, but also the fact that their contribution is going largely unnoticed. Many of the weavers' families have seen a flight of members from traditional art form to other modern professions. Skills, which were part of family legacies and honed over generations are now slowly disappearing. The weavers are starving and have even resorted to extreme steps like selling their blood at blood banks to survive. Many others have sold their looms for firewood. There are only 160 master- weavers now left in Varanasi.