Triumph showcases A/W collection at F Bar fashion show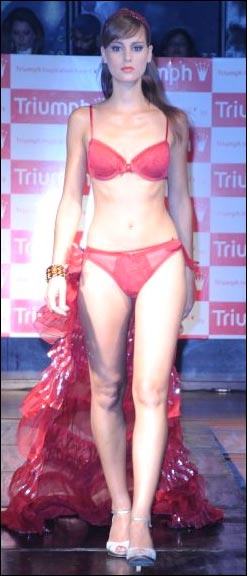 Lingerie specialist, TRIUMPH INTERNATIONAL showcased their AUTUMN WINTER COLLECTION 2008 in a dazzling fashion show at the F Bar in Ashoka Hotel in the capital.

They also announced the Indian Winner of the TRIUMPH INSPIRATION AWARD (TIA). The Indian winner will compete with finalists from over 25 countries at the World Finale to be held in Beijing, later this year.

The evening saw well known models donning the Autumn Winter Collection 2008 as well as the winning designs of the Triumph Inspiration Award.

The fashion show was choreographed by Lubna Adams. Renowned personalities from the Fashion Fraternity were present at the occasion. The evening reflected the elegance and workmanship of the TRIUMPH designs.

The winner of the Triumph Inspiration Awards was chosen by an eminent jury at the venue itself from the shortlisted contestants.

The eminent panel of the jury comprised prominent names such as Tapur Chatterjee – Model and Juhi Babbar - Actress, Director and Costume Designer, Mr. Aneesh Trivedi – CEO of Banyan Tree Communications had also been a prominent anchor.

While unveiling the Autumn Winter Collection Mr. Thorsten Allenstein – GM & Country Head (India and Sri Lanka), Triumph International said "The lingerie industry in India is pegged at about Rs. 20 Billion.

We plan to provide Indian customers with a varied and exclusive selection of the latest designs from our international team to ensure that our products here are at par with the latest trends."

While announcing the winner of the TIA he added "I am overwhelmed with the number of entries we received for the TIA from across the country as well as the quality of work of these young and upcoming designers.