Paspaley's decorative collection inspired by traditional motifs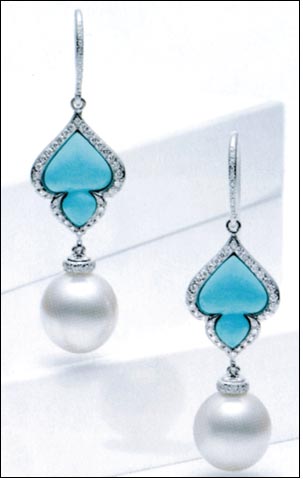 Paspaley, the pearling pioneer and jeweller par excellance, unveils its highly decorative collection of pendant chains and drop earrings that combine the beauty of 18ct white gold, diamonds, turquoise and the star of them all, its fabulous South Sea pearls.

Inspired by traditional Arabic motifs, these jewels exude the flavour of the Middle East and are sumptuous creations that are both show stopping and fetching.

"In a journey that began over 70 years ago, Paspaley has evolved into a jeweller of prowess that never ceases to delight lovers of jewellery.

Its latest creations prove its effortless mastery once again. Exquisitely finished and bringing together only the most precious materials, these jewels pay tribute to the rich heritage of Arabia.

They are sure to be adored by women of discerning taste in the region and elsewhere," said Tawhid Abdullah, Managing Director of Damas.

The mark of a brilliant jeweller is judged by the pliancy with which material yield to the demands of his vision and concept.

In Paspaley's 2007-2008 collection, this is on superb display in creations endowed with the finest finish. This draws inspiration from the perfect orb and luminescence of its sumptuous South Sea pearls.

The stunning drop earrings which can be easily hooked on to the ears feature a spade-like design fashioned in white gold that is closely ringed by a row of diamonds and in turn dangling its precious focal point, a large South Sea pearl.