FINATEX members to exhibit gorgeous collections for S/S 2009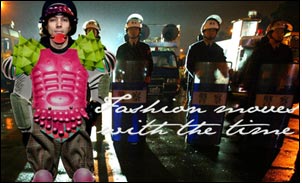 HELSINKI INTERNATIONAL FASHION FAIR DATES IN 2008 will be held on August 24 - 25 at Helsinki Fair Center, Halls 4 and 5.

Helsinki International Fashion Fair is organized by the Finnish Fair Corporation in co-operation with Fashion-Vateva. The Fair takes place twice a year, in January and August.

Fashion-Vateva is owned by the Federation of Finnish Textile and Clothing Industries FINATEX and specializes in fairs.

Opening hours:
Sunday, 24 August 10 am - 6 pm
Monday, 25 August 9 am - 4 pm

Admission:
Only for fashion professionals by invitation card or admission ticket.

Product groups:
- ladies' and men's wear
- young people's and children's wear
- sports and casual wear
- suede and leather
- underwear and nightwear
- accessories
- trade journals and publications
- shop supplies.

At the same time with Helsinki Fashion Fair the Shoe and Bag Fair will be organised at Helsinki Fair Centre.

The Helsinki International Fashion Fair brings together everyone who influences fashions: manufacturers, buyers, designers, students in the field, media representatives and other professionals.

In January 2008 the Helsinki International Fashion Fair and the Shoe and bag Fair attracted a total of 4,000 trade visitors. Covering an exhibition area of 2,500 m2, the Fashion Fair featured 117 exhibitors from 10 countries.

Finnish Catwalk - area:
Finnish fashion will be widely exhibited in the joint area of the Federation of Finnish Clothing and Textile Industries.