Shoetec closes with full success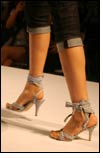 The UFI approved professional footwear event in Asia, The 7th Dongguan China Shoes. China Shoetec (Spring 2008)(also known as China Shoes) closed successfully on April 18, 2008 at GD Modern International Exhibition Center, Houjie, Dongguan, PR China.

With full support by Houjie Government and shoes industry, exhibiting area reached 22,000sqm, 507 exhibitors joined the exhibition and 20,580 visitors and buyers from 80 countries and regions have been attracted to visit and source at the fair. Dongguan China Shoes.

China Shoetec is reconfirmed to be one of the best one-stop sourcing platform for middle-to-high end footwear, materials and machineries in Asia.

China Shoes was jointly organized by China Chamber of Commerce for I/E of Light Industrial Products & Arts-Crafts, Messe Dusseldorf China Ltd, Adsale Exhibition Services Ltd & Guangdong Modern Convention and Exhibition Management Co, Ltd.

International buyers were attracted by exhibitors' well-selected products and attractive booth designs. Around 27% buyers were from overseas representing 80 countries and regions including Japan, United States, Korea, Australia, Brazil, Indonesia, Canada, Malaysia, United Kingdom, Philippines, Italy, Spain, Singapore, etc.

Federcalzature has organized European buyers to source at the exhibition and the delegates expressed that it was a fruitful trip. Mr. P. Wingate, an Australian shoes importer, said he was satisfied with the exhibitors' quality and overall atmosphere of China Shoes, he would visit the show again in next edition.

A Russian buyer (who preferred not to be named) said that he visited Dongguan, Guangzhou and Hong Kong in his sourcing trip and was glad to find the shoes that he wants at China Shoes.

China Shoes has also gained enormous support by domestic corporations and associations who organized their members to visit and source at the exhibition.

Meanwhile, buyers and representatives from department stores, chain stores, distributors, retailers and individual buyers from different provinces & cities, including Beijing, Shanghai, Hangzhou, Nanjing, Dalin, Shandong, Guangzhou, Shenzhen, etc, visited the fair.

Specialized Products Zones to Facilitate Buyers' Visit China Shoes is recognized as the most professional one-stop sourcing platform for middle-to-high end footwear, materials and machineries in Asia. To facilitate buyers' visit & sourcing, organizers had specially set up "Finished Shoes Zone", "Shoetec-Machinery Zone" and "Shoetec-Material Zone".