Freeform features dramatic Keshi pearls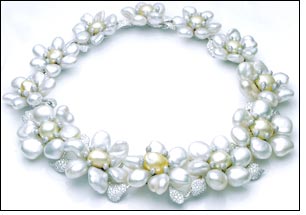 Paspaley, the purveyor of the world's finest pearls, presents rare, one-off pieces from its latest collection.

It combines large Keshi pearls and pave diamonds in 18kt white gold settings to offer elegant colliers, necklaces, stud and drop earrings, and rings.

Bold and dramatic, these creations exude a charming air that defies expectations, emerging as extraordinary options for the discerning jewellery lover.

"Freeform pearls have always posed a unique challenge to jewellery designers. Known as Keshi pearls, they come in a variety of charming shades and are known for their lustre and uncommon orient.

In its 2007–2008 collection, Paspaley displays its design innovation through singular and marvelous pieces that focus on the natural beauty of the non-traditional shapes of these treasures", said Tawhid Abdullah, Managing Director of Damas, the exclusive partner of Paspaley in the UAE.

Paspaley's visionary excellence is highlighted with delectable effect in a sumptuous collier of large flowers created from Keshi pearls. White gold leaves encrusted with pave diamonds are interspersed with the pearl blossoms for maximum drama.

This produces an organic piece resembling a garland of wild flowers that was casually strung together! It is matched with huge blossoms for stud earrings and an eye catching ring, all designed to put its wearer in the limelight.

In another set, large, hollow white gold ovals are lined by a sparkling row of diamonds with each oval nestling one sumptuous Keshi pearl. Paspaley then strings these enchanting settings to form necklaces, drop earrings and rings with seeming nonchalance.