Prince Jewellery celebrates Akhaya Tritiya Week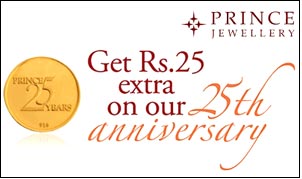 Akhaya Tritiya(Sanskrit for never diminishing') is one of the auspicious days in the Hindu calendar. It is believed that gold or any jewellery bought during that day will multiply and never diminishes.

It also a great day to start new businesses or new ventures. This year Akshaya Tritiya falls on May 7th / 8th. It is also great day to start saving for buying gold jewellery and what better way but to join the Prince Gold purchase plan, the Prince Jewellery savings scheme.

Prince Jewellery will a have special Akshaya Tritiya offer from May 1st- May 8th 2008, in all the 3 showrooms (Panagal Park, Cathedral Road, Spencer Plaza).

2008 will also see Prince jewellery celebrate 25 years of excellence in jewellery and what better way to celebrate than the launch of special Gold coins! New Diamond Section: The offer called 'Akhasya Tritiya week' also coincides with the launch of new renovated diamond section at the Panagal Park showroom.

The new section now spacious will have the best diamond range in the city. With unlimited range, the new section will have the best of diamonds, solitaires, necklaces, rings, bangles and more.

If wedding is on the cards, one should see & buy the new Diamond wedding collection. Specially designed by Prince keeping the wedding season in mind, the range is by far the best from Prince. All purchases come with guarantee card so one can be rest assured of their authenticity.

If that is not all, Prince sells Diamonds which are only dosham free. Besides the diamonds come with a promise of 100% buy back guarantee The new section will also have platinum and rubies, emeralds in unlimited range.