Monet Ring Collection pays tribute to the greatest painter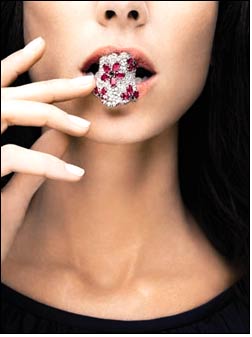 Stefan Hafner, the Italian jewellery brand of sparkling eminence and glamour presents its latest offering fresh from Baselworld 2008 - the Monet Ring Collection. The dazzling array of creations draws inspiration from and pays tribute to one of the greatest works of renowned 19th century painter Claude Monet.

Monet's 'Nympheas,' the acclaimed French impressionist painting which charmingly depicts water lilies on a pond is interpreted by Stefan Hafner using diamonds, emeralds, rubies set elegantly in white gold.

The famed jeweller splendidly captures the essence of the artwork and gives it a contemporary twist, the outcome of which is a dazzling collection of rings designed to inspire both the wearer and onlooker.

"Stefan Hafner has always drawn inspiration from nature's wonders. Each piece is a unique take on the delicate and transient beauty of flowers.

The Monet Ring collection captures the spirit of the famous painting in the most precious materials, offering art that one can appreciate and wear," said Tawhid Abdullah, Managing Director of Damas.

In Stefan Hafner's Monet Ring Collection, the blooms 'float' on pave diamonds as emerald green or blushing ruby blossoms nestle on pave diamonds or diamond flowers rest on a pave of rubies.

Unusual and striking, these pieces defy expected norms of ring design by elegantly wrapping a substantial part of a woman's finger assuredly with very delectable effects.

Apart from the Monet Ring collection, Stefan Hafner has created four highly versatile lines such as Sogno, Rugiada and Venus Diamond.