Graff hits Bullseye with new diamond jewellery collection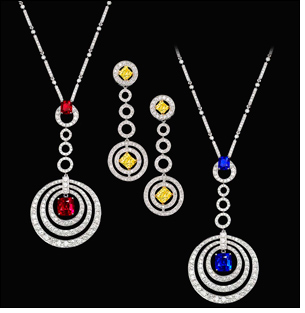 Graff from London, the jewellery house extraordinaire takes delightful aim with its exciting Bullseye collection of jewels offering pendant chains and drop earrings featuring diamonds, rubies, emeralds and sapphires in a blend of cuts and shapes such as brilliant, cushion, marquise and pear in white gold settings.

And Graff's target…to win its audience over, with jewels just a positioning mainly two geometric shapes: circular and square, in dramatic visual appeal.

And of course Graff hits the bullseye with apparent ease! In these pieces, concentric circles come together with purposeful intent to draws the eye's focus towards the centre and then radiate its attention outward.

Take for instance its bewitching pendant necklace featuring round brilliants arranged in concentric circles of gradually diminishing sizes, which appear to guard one dangling deep red cushion-cut ruby or emerald at the centre, both in the pendant and the point of the chain from which the pendant drops.

Graff moves the observer's eye with practiced ease to make you see and appreciate every single cut and colour of its precious stones. Match this piece with drop earrings imitating this necklace's magnificence.

In its other pendant necklace Graff touts its famous combination of yellow and white diamonds to offer a piece where once again concentric circles group together around an awesome yellow cushion cut diamond, and are dotted with alternate yellow and white diamonds in round and cushion cuts.