Fashion students make traditional Abaya trendy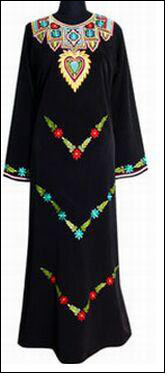 Fashion students of Virginia Commonwealth University (VCU), recently had an interesting project of designing Abaya, a traditional Islamic attire that is worn by Muslim women. The students had to stay in Qatar for 10 days, for understanding the culture and its association with the garment.

The innovative Abayas were showcased at Annual Student Fashion Show of VCU, where spectators were stunned to look at the creativity and experimentation that added style and grace to the otherwise this simple attire. The garment had exquisite embroidery and embellishments in a wide range of bright colours including red, blue, gold and silver.

After receiving loads of praise from the faculty and spectators, the garments were sent to Doha for another show at VCU School of Arts in Qatar.

The project is among a series of collaborations between students and faculty, at US colleges and their campuses, which are spread across nations.

With fashion entering the Gulf regions, the stylish women are ready to pay high prices for designer abaya, that are beautified with semi precious stones and rich embroidery.

Thus, there is a tremendous scope for designers to continue conceptualizing and innovating the customary clothing, which has just begun and has a bright future as well.