Myvu unveils new lines of video eyewear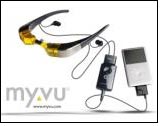 Myvu Corporation commercially released its new lines of video eyewear: Myvu Crystal, the new premium product, and Myvu Shades.

Built with SolidOptex, the Myvu patented optical system, Crystal and Shades transform portable media players into hands-free, full-screen private viewing experiences, offering the thinnest, lightest and most durable video eyewear available.

"The introduction of Myvu into the market in 2006 created a brand new consumer electronics category for the masses video eyewear," said Kip Kokinakis, president and CEO of Myvu Corporation.

"Crystal and Shades represent a leap forward in form and technology, providing the highest resolution quality with a sleek design that transcends age and gender barriers."

Crystal:
Myvu Crystal, the company's premium product, is a combination of breakthrough technology and a slim, ergonomic design. Increasing resolution from Quarter VGA to VGA quality, Myvu Crystal offers the highest resolution in the Myvu line up to four times that of other Myvu products.

Built for durability and style, Myvu Crystal features a 35 percent increase in the field-of-view over previous Myvu models, providing the truest DVD quality experience possible. Myvu Crystal comes in amber or black and includes a rechargeable battery with up to four hours of continuous viewing time.

Shades:
Myvu Shades features an enhanced glance-down design that allows viewers to maintain the most situational awareness possible without sacrificing image or screen quality.