LIVESTRONG sunglasses support Lance Armstrong Cancer Foundation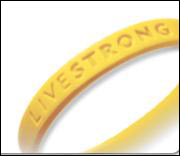 Oakley Inc announced that contributions made through the sale of the company's special-edition LIVESTRONG eyewear have now exceeded $1 million.

Twenty dollars from the sale of each LIVESTRONG sunglasses go to the Lance Armstrong Foundation and its ongoing mission to inspire and empower people affected by cancer. It took just eight months for the program to reach the $1 million mark.

"This is a huge milestone, and I could not be more grateful to Oakley for its ongoing support of the foundation," said Lance Armstrong.

"They've always been there for me, on and off the bike, and with the help of the company and those who appreciate its unbeatable eyewear technologies, we are making a difference for those whose lives are affected by cancer," Armstrong concluded.

"Lance has been part of the Oakley family for decades, and we are honored to assist his efforts in bringing hope to those whose lives are challenged by cancer," said Colin Baden, president of Oakley.

"Hitting the $1 million mark in just eight months is a testament to the inspiration of Lance's biking career and foundation work, and we are proud to be part of such a noble endeavor," Baden concluded.

Oakley will soon be releasing its latest addition to the LIVESTRONG series of premium sunglass designs, a new version of the company's time-honored M Frame.

A favorite of Lance Armstrong for many years, this eyewear has seen more championships and medals than anyother single sport product on Earth.