FENIT will mark a new phase for the domestic fashion industry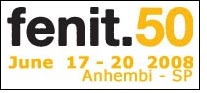 Organized and promoted by Reed Exhibitions Alcantara Machado (a joint venture between the world's largest trade fair promoter and the largest one in Latin America), FENIT (International Textile Industry and Fashion Trade Fair), Brazil's first trade fair, which is about to celebrate its 50th anniversary, will mark a new phase for the domestic garment industry and prepares to meet the upcoming challenges.

To be held from June 17 to 20 in the Pavilhão de Exposições do Anhembi exhibition center, in São Paulo, it is one of the most important events for the textile industry, which achieved estimated sales of US$ 34.6 billion in 2007 and generated 1.65 million jobs.

Simultaneously with FENIT, FENATEC (56th International Textile Trade Fair) will also be held, with an exhibition of fabrics and notions. The objective of this event is to show the quality of the Brazilian textile industry to both domestic and international buyers.

"This is the first year in which Reed Exhibitions Alcantara Machado will have organized FENIT and FENATEC. Our objective is to recover the full importance of these events for the sector, offering the best to our exhibitors and organizing a gathering that can generate excellent business deals, expanding all participants' customer portfolio", comments Ricardo Matrone, the trade fairs' Show Manager.

As the capital of business, especially of the fashion business, São Paulo has been home to FENIT since 1958 and to FENATEC since 1980.