Footwear veteran Mr B.D Nathani joins Vi-Ga Company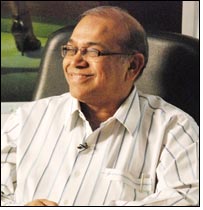 ViGa, a 20 crore footwear company announced the appointment of Mr. B.D Nathani as Chief Operating Officer. Mr. B.D Nathani is a veteran of the footwear world. An accomplished senior with a wide array of professional experience across FMCG & Retail industry.

Acknowledged for ground breaking efforts in driving initiatives within organizations that led to revenue growth. He has had long years of experience in strategizing and maintaining the known footwear brands in the country like Woodland in 1993, Adidas, Liberty, Crocs, Lotto & Disney and has had a pivotal role in establishing them. He has also been delivering guest lectures at various B schools like Birla Institute of Management Studies, Apeejay Institute of Management, Gurunanak Institution of Management, IPM, Meerut etc.

Mr. Nathani is also well known in Retail circles as an expert in the retail business. He is the person who had signed 'SANIA MIRZA' as the brand ambassador of Lotto, after which Lotto penetrated deeply allover in India. Not only this he is also the driving force behind the success of Crocs & High Tech shoes in India by making them most successful brand in the short span. Apart from his tenure with Woodland, Liberty, Adidas, Lotto his last assignment was with CHOGORI Crocs as Director.

Education:
L.L.B from Delhi University
Bachelor of Arts from Punjab University

Benchmarks and Milestones:
• Credited with the eventful launch of WOODLAND Shoes and Apparels, a brand widely acknowledged as the pioneer and market leader in the premium casual wear segment. The product was nationally launched in mid-1993, and within three years, the Group's domestic operations attained a turnover of Rs. 50 Crores. The brand has been steadily growing ever since, with the turnover crossing another milestone of Rs.100 Crores in the year 1998-99. The enviable success path of the brand has been consistently highlighted by the media, within and outside the country.