David's Bridal for the perfect match of shoe and purse colors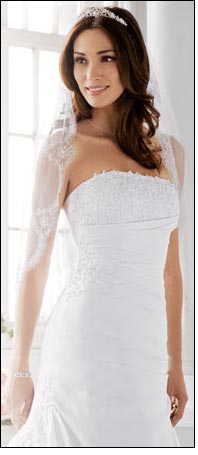 The doors to the church sanctuary open and the glowing bride enters, a vision of loveliness in her gorgeous wedding gown.

A soft gasp of admiration rises from the assembled guests. Gently resting her fingertips on her father's arm before he escorts her down the aisle, she pauses to take in the serenely beautiful scene: Her smiling groom at the altar. The lush flowers. The lilting music.

Soft candlelight plays across the radiant faces of her bridesmaids. Even the toes of the bridesmaids' shoes, just barely visible from beneath the hems of their rose-petal-pink gowns, match the dresses exquisitely.

Everything is perfect:
This familiar scene repeats itself on average every 5 seconds in the United States where an estimated 2.4 million couples marry each year.

Thanks to Clariant's Archroma Global Services expert color-matching and color communication business, brides and others who buy special-occasion footwear and accessories through renowned bridal retailer David's Bridal have no worries when it comes to ensuring the shoe and purse colors perfectly match their dresses.

It's one less headache for brides and those who help them plan their weddings.

David's Bridal - the largest bridal retailer in America - began working with the Charlotte, N.C. based Archroma team in 2004 in an effort to achieve consistent results when shoes and handbags were being dyed at different David's Bridal stores across the country for members of the same wedding party.

Previously David's Bridal stores had received shoe dyes from one of the chain's footwear manufacturers. The dye lots themselves were proving inconsistent and there was no way to accurately account for different lighting conditions such as the store versus outside versus ceremony or to show the prospective bride an accurate representation of the finished shoe color relative to the dress.

Without a systematized reliable color prediction and color standardization method, that Peridot-colored shoe in Poughkeepsie might look more like Celery or even Citrus Green, depending on which store did the dyeing.