Open chance for leading brands at CantonSF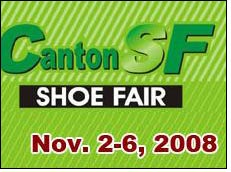 CantonSF the biannual footwear event will open its 7th session on Nov 2 - 6, 2008 CANTON POLY WORLD TRADE CENTER. It always strives for establishing itself as a unique footwear event.

The 7th China (Guangzhou) International Shoe Fair will continues to move on with her brand-new style and leads this show into a new era.

The 7th China (Guangzhou) International Shoe Fair, an innovator and a trend setter, upgrades to be The 7th China (Guangzhou) International Footwear Expo, offering an opportunity for global famous brand shoes to enter Chinese market.

China is the biggest consumption countries for shoes with 1.3 billion populations. With the development of economy and improvement of living standard, more and more Chinese are liable to buy famous brand shoes.

It will absolutely be a huge target market for oversea exporter. To meet the rising demand for brand shoes, CantonSF opens attractive chance to invite global famous brand displaying and trading here.

Meanwhile, In order to meet the demands of exhibitors' market expansion, new exhibition hall CANTON POLY WORLD TRADE CENTER, adjoining Pazhou Exhibition Hall will start up and provide traders a more comfortable environment to do business.

CantonSF was started in 2005. Six sessions' perseverance built itself the biggest shoe fair in China. For exhibitors, CantonSF is their best platform to enter the international market; while for visitors, with 75% of shoe factories from shoe-making base, it is the most reliable marketplace for purchasing shoes in good-quality, wide range and low-cost.