18th Jewelry Career Fair to be held in New York on July 25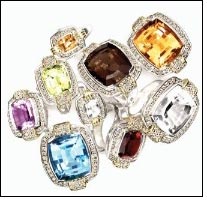 The Gemological Institute of America (GIA) has announced the date of its 18th Jewelry Career Fair in New York to be Friday, July 25, 2008 and held at the Jacob Javits Center. The event brings together the jewelry industry's most distinguished leaders, influential executives, and visionaries to successfully bridge the gap between leading companies looking for resources and talented individuals seeking a profession in jewelry.

This year's event will start with a star-studded "Working to Win" panel that will give attendees exclusive insight on what it takes to be a success in the gem industry.

These notable panelists include:
• Ralph Destino, chairman of GIA (moderator)
• Steven Lagos, designer and CEO of LAGOS
• Susan Jacques, president and CEO of Borsheims
• Rahul Kadakia, senior vice president, head of department of Christie's Americas
• Ann Arnold, vice president and CFO of Lieberfarb

GIA's vice president and Chief Marketing Officer, Kathryn Kimmel said, "This year's speakers and panelists represent the highest caliber of the most prominent executives who are at the forefront of the jewelry industry. For job seekers to be given the opportunity to meet these internationally recognized individuals all at one time and in one place, is quite extraordinary. Anyone interested in the jewelry industry should attend this event."

In addition to recruiters representing leading companies like David Yurman, Oscar Heyman, Tiffany & Co., and Zale Corp., the full-day event provides attendees with a comprehensive jewelry career agenda that includes career coaching sessions, immigration law workshop, jewelry design panel and a "marketing yourself for success" panel.