'Sweet Happiness' with 'Invented Memories' at Rio Moda Hype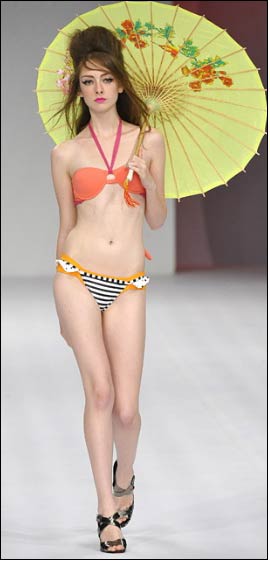 Six more brands from different locations in Brazil participated in the second day of Rio Moda Hype fashion shows.

Below, see the highlights of the participants in the event's 9th edition:
Renata Veras (Rio de Janeiro) – The movie "Barbarella" inspired stylist Renata Veras. In order to create the fun pieces, she used leather and chamois, as well as metalized fabric.

The swimsuits receive differentiated cutouts, while the bikinis play with a mix of prints. Earthy tones and emerald green are in the color chart. Drapings and crushed looks add volume.

James Cesari (São Paulo) - The "boys of the world" invade James Cesari's catwalk with plenty of style attitude. The stylist explored the shifting of the silhouette, which resulted in pieces with various lengths. Military and sports references are in the collection. The highlight goes to the black overalls and sarouel bermudas.

Melca Janebro (Fortaleza) – Light fabrics, delicate and romantic prints, leg-of-mutton sleeves. These are some of the items of the collection presented by the stylist which was given the name "Sweet Happiness".

And it is easy to see, just by looking at the delicate pieces that receive careful details in lace, small print flowers and ants cutout by laser and applied in a sort of backstitch.

Meketref (Recife) - Bárbara Formiga, Daniela Amorim and Juliana Santos presented the fun and colorful collection "The Supreme Battle of the Super Sentai – Beyond the Infinite Horizon".