Fashionology, an exclusive garment store for trendy teens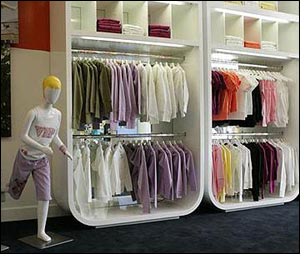 Fashionology, a personalized clothing store that has recently come up in Beverly Hills, has gained immense popularity among young girls. The brainchild of duo Elizabeth Wiatt and Jamie Tisch, this opulent shop caters to the creative urge of American girls aged 8 to 14, who love to experiment with their outfits.

The young fashion conscious customers can now customize their garments by decorating it with graphics, embellishments and charms, at this interactive design store. The range of cloths that can be personalized includes sneakers, jeans, hoodies, tank tops and capries.

The touch screen technique allows the girls to choose from five different categories of styles like Juku, Peace, Malibu, Pop Princess and Rock and Roll. They can even create their own design plan and convert a simple apparel into a fashionable one. Girls can choose graphics and embellishments by clicking on bling it, charm it, sew it or clip it to get their self designed garment ready.

Child mannequins in active poses, bulletin boards with posters of animals, clothes and teen heartthrobs are all perfectly placed to provide the best ambience for the trendy teens of the nation.

Elizabeth Wiatt and Jamie Tisch are also planning to launch similar store for boys at a later stage with different set of graphics and garments.