Pond's White Beauty helps Women get pinkish white glow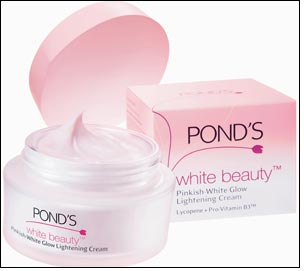 The latest craving among women is healthy skin with a pinkish white glow. New Pond's White Beauty range from leading international brand POND'S has used powerful antioxidant Lycopene along with Pro vitamin B3, to render a pinkish white glow to the skin.

Venkat Sridhar, General Manager, Skincare HUL, says "Just skin lightening is not enough for the modern woman to feel beautiful.

Women are looking for more than that; they want to look healthy too. Pond's White Beauty helps them get this very pinkish white glow.

By introducing Lycopene to our Pro-Vitamin B3 in our skin lightening product we are giving women exactly what they need for healthy skin, which makes them look more beautiful.

Lycopene is found naturally in skin, and a pinkish white skin on the outside means healthy skin on the inside".

New Pond's White Beauty is the first skin lightening cream to include Lycopene in India, The powerful anti-oxidant is well known in the US and Europe for its health benefits and is already used in many health supplements and nutriceutical products.

Lycopene is a natural anti-oxidant which occurs in fruits and vegetables like pink guavas, tomatoes, and watermelons, and gives them the pink or red colour.

However less than 1% of anti oxidants consumed orally through such fruits and vegetables reach the skin. The new Ponds White Beauty with Lycopene + Pro Vitamin B3 is the easiest, fastest and most effective way to get an attractive pinkish white complexion.